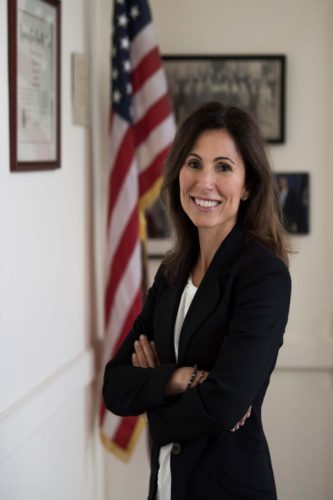 I am honored and privileged to serve as the 62nd president of the Queens County Women's Bar Association. We have come a long way from the 14 women who founded this organization back in 1931 because they needed an organization of their own. Today we are a strong, professional and diverse group of almost 300 female and male attorneys and judges who continue to depend on our organization to educate, promote and support each other..
I am looking forward to a full and memorable year. We have many exciting events planned! We already got a great start to the year at our annual Clovis Point Winery trip where we had a great day of wine tasting, pie shopping and shared camaraderie and a fun night on our fabulous dinner cruise around New York City on the Skyline Princess with our sister bar organizations. Our New Members Reception will take place on September 28, 2017 at Bourbon Street in Bayside; our annual Making Strides Against Breast Cancer Walk is on October 15, 2017 at Flushing Meadow Corona Park, and our Judiciary Night is scheduled for November 21, 2017 at the Queens Theatre. Additionally, our annual Appellate Courts Update will be held on October 24, 2017 and we will be celebrating the holiday season with our Queens Bar Holiday Party on December 7, 2017. Please check our calendar regularly for updated information on our events and programs.
When you join us at the QCWBA, you become part of both a local and statewide network of attorneys and judges that provides support for your professional life and career through various member benefits, mentorship and robust programming, such as our Continuing Legal Education courses, Speed Mentoring program and Pro Bono clinics. There are many opportunities to learn, network and get involved as a new member.
If you have not already, we invite you to join us or renew your membership today and join us at our events in 2017.
Please like and follow us at www.facebook.corn/QCWBA and on Twitter @QueensWomensBar, and browse our website for more details, flyers and information about our upcoming events, and feel free to e-mail me at info@qcwba.org with your thoughts, ideas and suggestions.
We look forward to seeing you soon.
Alexandra Zervopoulos