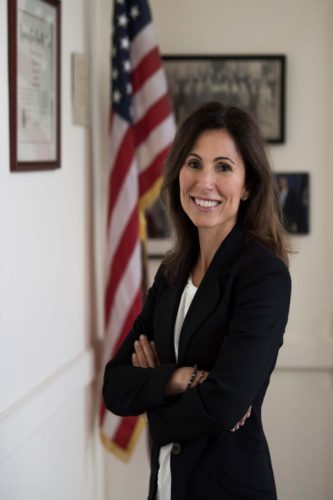 I am honored and privileged to serve as the 62nd president of the Queens County Women's Bar Association. We have come a long way from the 14 women who founded this organization back in 1931 because they needed an organization of their own. Today we are a strong, professional and diverse group of almost 300 female and male attorneys and judges who continue to depend on our organization to educate, promote and support each other.
It has been quite a memorable year thus far. After a wonderful kick off to the summer at our annual Clovis Point Winery Trip and Skyline Princess Dinner Cruise, we hosted our New Member Reception at Bourbon Street rooftop lounge in Bayside where I had the pleasure of meeting many new friends as well as catching up with old ones. In October, we came together and walked, Making Strides Against Breast Cancer at Flushing Meadows Park, in continued support for this cause. In November we offered a free ethics CLE on "Why Your Ethical Obligations as a Professional Require You to Pay Attention to Your Mental Health". Our annual Judiciary Night in November was a huge success! We had the privilege of honoring, Presiding Justice of the Appellate Division, Second Department, Randall T. Eng, as our keynote honoree and our Past President Annamarie Brown, as a special honoree, celebrating the members of our judiciary, and presenting very worthy recipients with Faith O'Neil Scholarship awards. As 2017 came to a close, we celebrated the holiday season at our Queens Bar Holiday party.
We still have many exciting events and programs coming up! A heart healthy cooking event is scheduled for February 8th, where Chef Aless will demonstrate how to prepare a healthy and delicious meal. We have a wonderful and informative program, "African American Women and the Vote" scheduled for February 28th at Queens College. In March, we plan on getting together for "Greek Night" (TBA). Our Speed Mentoring Program is scheduled for April 18, 2018 at St. John's University, School of Law. In May, in honor of mental health awareness, we have a series of events planned for May 8th, May 12th and May 17th. Besides these events, there are other exciting programs being planned. Please check our calendar regularly for updated information on our events and programs.
When you join us at the QCWBA, you become part of both a local and statewide network of attorneys and judges that provides support for your professional life and career through various member benefits, mentorship and robust programming, such as our Continuing Legal Education courses, Speed Mentoring program and Pro Bono clinics. There are many opportunities to learn, network and get involved as a new member.
If you have not already, we invite you to join us or renew your membership today and join us at our events in 2018.
Please like and follow us at www.facebook.com/QCWBA and on Twitter @QueensWomensBar, and browse our website for more details, flyers and information about our upcoming events, and feel free to e-mail me at info@qcwba.org with your thoughts, ideas and suggestions.
We look forward to seeing you soon.
Alexandra Zervopoulos